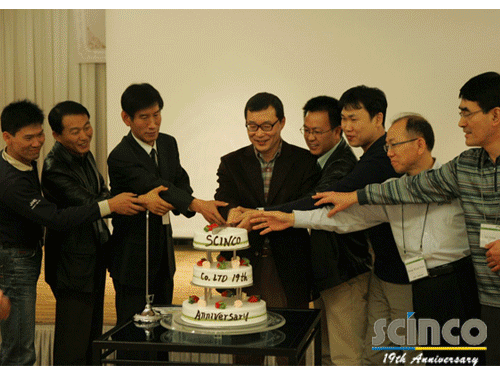 Let's celebrate our 19th anniversary!
There was a reception in celebration of the Fund's 19th Anniversary at Lotte Hotel in Seoul and All Scinco employees were at one place for the first time including Scinco China and Taiwan colleagues. At this time, we had a great time for each person to introduce him/herself and to wish the personnel/corporate desire/celebration. Also, Mr. Hun Choi, Scinco President, reviewed the past years and announced " Scinco has been succeed the great growth in aspect of quantitative and qualitative since the establishment but Scinco shouldn't rest on ours' laurels and should focus on the current economic crisis' situation. Scinco is facing with a good opportunity now to make a differentiation from others and it's the time to make provisions for the future 10 years to go forward."
We really enjoyed our birthday and it would be a good opportunity for all staffs to have a great conceit regarding our own company and we wish we can have another big celebration the next 20th anniversary.