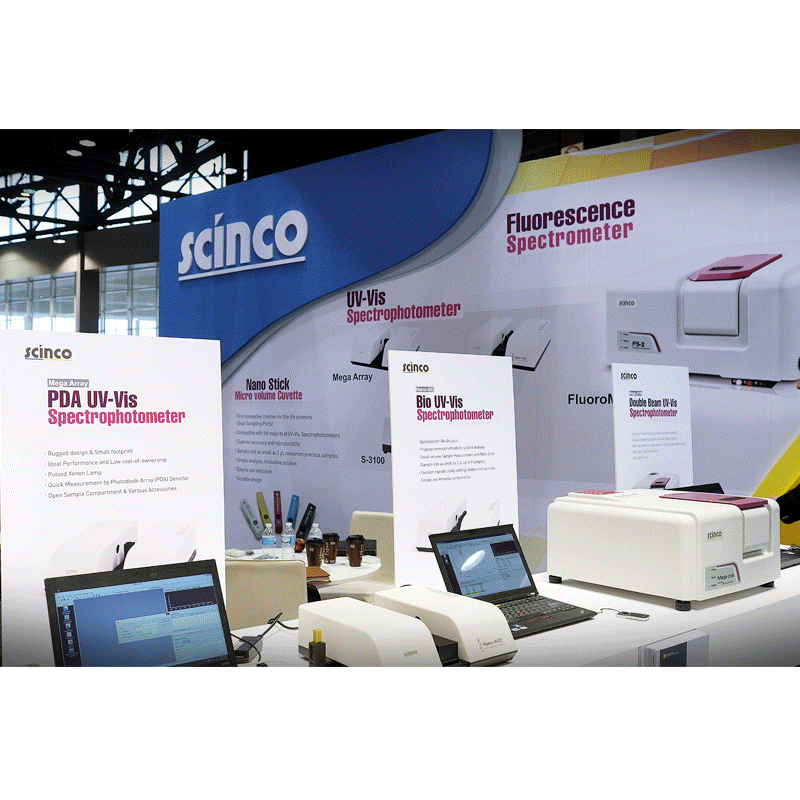 Scino participated in PITTCON2014, Chicago, USA from Mar. 2 to Mar. 6.
In the PITTCON 2014 exhibition, we proudly launched our new products, Double Beam UV-Vis Spectrophotometer, Mega-2100 as well as PDA Bio UV-Vis Spectrophotometer, Nano-MD and simple & compact PDA UV-Vis Spectrophotometer, Mega Array which attracted much attention from many visitors. 
The visitors still showed big interest in Scinco typical products such as S-3100 PDA UV Vis Spectrophotometer, ColorMate Color Spectrophotometer, FS-2 Fluorescence Spectrometer.
Nano Stick again got the spotlight as it fascinated the visitors in an aspect of superior accuracy and reproducibility and the micro cuvette of new concept for the bio and life applications. In addition, Nano-MD PDA Bio Spectrophotometer is one of the outstanding new products in the PITTCON 2014 exhibition which the visitors showed the most interest in, and it has the affordable price, small footprint, the superior performance in the bio and life science field.
Through this exhibition, we could see the technique changes and trends, and feel that Sinco has steadily been moving forward as one of leading scientific instruments manufacturers.
We appreciate all the visitors for joining us at PITTCON 2014.